Local Restaurants
Some of our trips do not include meals, but there are a handful of delicious eateries that are in close proximity to our campground.
Located right next door to our campground is a newly-welcomed Lotus restaurant serving pizza and salads. Local beer and wine also available.
Located just a short walk from our campground is an outdoor family-style restaurant serving unique pizzas, salads, fresh appetizers, and local beer and wine. Local live music can also be enjoyed on weekends.
Located in the same parking lot as our campground. A favorite amongst locals and travelers alike. Enjoy a variety of coffee and tea beverages as well as delicious home-baked goods. Lunch and dinner is also available.
Located in the same parking lot as our campground. Self-serve frozen yogurt with delicious flavors (dairy-free as well) and toppings bar that is guaranteed you cool you down on a hot summer day.
Located about a quarter of a mile from our campground. The River Shack features made-to-order deli sandwiches and a wide variety of beers. The perfect spot to hang out and live life on river time.
The Coloma Club Bar and Restaurant
Located about a quarter of a mile up the road from our campground. The Coloma Club has a full service bar and is a popular hang-out spot for locals and river guides at night. The restaurant also serves breakfast, lunch and dinner with a variety of menu items.
The Argonaut Farm-to-Fork Cafe
Located in Marshall Gold Discovery State Historic Park about a mile from our campground is a cozy, river-front cafe serving organic and locally-sourced ingredients for breakfast and lunch. A full espresso bar serves local coffee as well.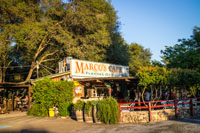 Local Wineries
The California Gold Country is also known for its renowned wine country. Within a short drive of our campground is an abundance of fine wineries and tasting rooms. Take a drive through the beautiful Sierra foothills and enjoy tasting the flavors of the region's fine wines.
El Dorado County Winery Map & Information
Amador County Winery Map & Information