Renowned as the finest rafting campground on the river
Look no further for a comfortable camping experience alongside the beautiful banks of the American River
EarthTrek Expeditions Camp on the South Fork American River is our base for all of our trips on the American River. We are proud to offer comfortable camping options and delicious meals prepared by our staff. We are the only campground known in California that offers our unique style of river-front tents, which are canvas cabin tents situated on decks overlooking the river. Nothing compares to drifting off to sleep while being lulled by the gentle harmony of flowing water. We are also proud to offer our fully-furnished comtemporary cabin. All of our camping options are the perfect luxurious compliment to a day of rafting and outdoor adventure. On a multi-day rafting trip you will spend a good portion of your time at camp, so we place a high priority on providing a deluxe camping experience for our guests.
The two nights camping and facility fee is included on all EarthTrek Two Day and Super-1 Day trips. One day trips do not include camping but you can add camping to your trip for $10 per night per person. Included camping refers to the included $10 per person/per night camping/utility fee which means you may use your own camping gear instead of renting gear or cabin tents. Rental camping gear and cabin tents are an extra charge. Please note: We do not allow cooking of any kind at our camp (i.e. camp stoves, barbecues, etc). Meals are provided by EarthTrek Expeditions on multi-day trips or if you are not part of a trip that includes meals you may purchase meals at several restaurants that are an easy walk from our camp.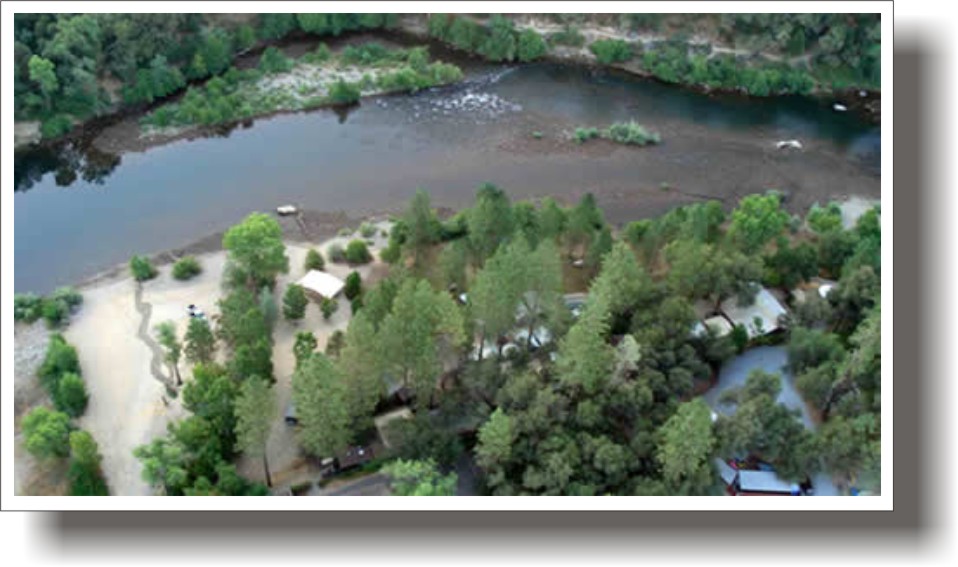 Aerial view of EarthTrek Camp on the South Fork American River
CLICK HERE for a larger image
Some of the many features of our campground
In our camping area along the river you can sleep under the stars or set up your own tent on our spacious grass lawn. You may choose to rent one of our large 2-person dome tents with thick foam sleeping pads, or ...

You can rent one of our cabin tents with bunk beds accommodating from 2 to 12 people. Rent a sleeping bag or bring linens and blankets. This is roughing it?



You can rent one of our River Front Tents on raised decks, located at the river's edge giving you a spectacular and private view of the American River.
Delicious meals are served by our friendly guides in our 2 outdoor covered kitchens.



During your free time you can enjoy a game of volleyball on our beach sand court or challenge your friends to a game of horseshoes in our professional horseshoe pits. In our new game deck you can enjoy ping pong and foosball. At night, if available, you may use our campfire pits to roast up some marshmallows for s'mores and gather around for good ol' outdoor social activities.



Our amphitheater is a comfortable and scenic locale for our morning trip orientation, evening entertainment (option for groups) and viewing your rafting photos after your trip.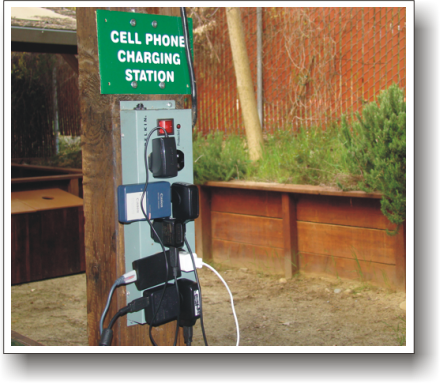 We think of everything.........wi-fi too!





Our convenient and modern rest rooms feature tile floors, hot showers and flush toilets.

At our camp store you can pick up a souvenir t-shirt or hat, a waterproof camera, sunglass strap or one of those often forgotten items such as sunscreen, batteries or a toothbrush. Rental wet suits, spray jackets and booties are also available for rent, when needed.
Put-ins and take-outs are easy from our private beach.
[Dear Earthtrek Staff,]

I have been going river rafting each year with Earthtrek since 1990. I've only missed going rafting 5 times during that 22 year period. Earthtrek has provided great rafting experiences every time that I've gone rafting. The South Fork and Middle Fork of the American River will always provide fun and excitement, but Earthtrek has always made my trips extra special. Of course the meals they provide are always superb, but it's the staff that makes the difference. Every guide has a pleasant personality and they go out of their way to make me feel welcome. I have had the opportunity to talk about Earthtrek to my family, friends and co-workers and have had the fortune to organize a group of them to go rafting each time that I've gone. They all have had the same experiences that I have had. All I can say to Earthtrek is; Don't change anything and keep up the great work!

Thanks,


Lonnie J.