Two Reluctant Rafters Make a Splash on the American River
By Henry Fenwick
Photographs by Mark Leder-Adams
Re-printed from May, 2001 AAA Westways Magazine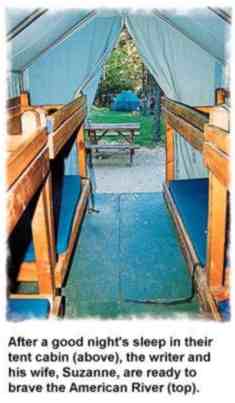 y wife, Suzanne, and I are both wimps. That has to be understood from the outset. And we like luxury. We stay at hotels with heated swimming pools and dine at restaurants with rave reviews. But we are wimps with ambition, and the prospect of white-water rafting on the American River in Northern California seemed potentially broadening, a good thing to take on before we became set in our ways.
I had always believed that I was less adventurous than Suzanne was, but then she revealed the full extent of her wimpdom. She beamed at the brochure's picture of a raft, full of smiling people, floating down a serene stretch of river, then yelped at the next picture: a raft full of screaming people careening almost vertically down what looked like a waterfall.
"I don't want any of that," she said.
"That's just a highlight," I told her consolingly. "It's all much more like the first picture."
"I don't want any highlights," she said with a moan. "I accept that I'll get wet. That's all!" But her fears seemed to disappear as we shopped for nylon hats to keep off the sun.
Wet Feat
We arrived at the EarthTrek Expeditions camp in the late afternoon on a Friday after flying into Sacramento and driving about 40 miles northeast. The camp, located near Coloma, sits gracefully on the riverbank and has a green lawn where guests can set up dome tents. The tent cabins that are the camp's only permanent accommodations are set farther back, closer to the dining area and bathrooms. We strolled to the river's edge, admired the tall pine trees across the way, and dipped our toes in the cold water that we planned to brave the next day, then made our way back to our assigned tent cabin.
Two sets of bunk beds pretty much filled the space, but since only the two of us were staying here, we put our things on the top bunks and decided to sleep in the lower ones.
The beds turned out to be remarkably comfortable, and that night the sound of the river lulled us to sleep. The next morning, a hearty breakfast from the camp kitchen and T-shirt shopping in the camp store (which also stocks necessities guests might have forgotten) fortified us for the day ahead. Most people at breakfast were on a two-day outing, rafting first the lower, and then the upper stretches of the American River's South Fork. A stocky, fit-looking policeman told us he'd come back for a second time, just for the day. He was hooked on the idea of tackling the more challenging Middle Fork. The South Fork has Class III rapids, labeled in the brochure as "intermediate" with "fun action." The Middle Fork has Class IV rapids, billed as "advanced" with "wild excitement." Suzanne and I were booked for two days, the first on the South Fork and the second on the Middle. Were we being too adventurous?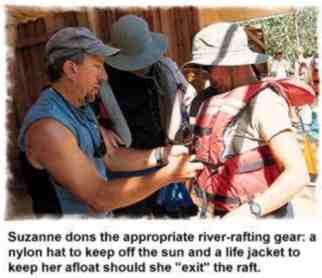 Rollin' on Downriver
The morning on the Lower Gorge South Fork would be fairly mellow, Randy promised, and that indeed proved true. We launched the rafts from a shallow beach and began our voyage downriver. The water was quiet, the sun not yet hot. Along the riverbank, bushes with vivid red flowers had sprouted between green serpentine rocks. Our paddles splashed gently. We passed derelict gold dredges and learned that people still pan for gold here.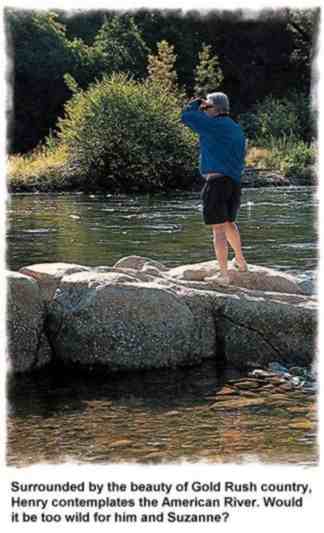 We practiced our techniques for ducking into the boat when we hit the rapids. We practiced our fast paddling, our back paddling. We became confident. There were five boatloads of us, with five river guides: Rod, Randy, Janeen, Tony, and Josh. Rod, the veteran guide, was in our raft. His son Josh headed up a much rowdier vessel whose occupants already showed signs of wanting to get into water fights. The people in our raft were too mature for such goings-on, and that suited Suzanne and me just fine. We crossed one or two mild stretches of rapids, but nothing to make the jaws clench. The growing heat of the sun combined with the sharp shock of cold water when we hit turbulence provided enough excitement for the morning. By the time we stopped for a picnic lunch on the riverbank, we felt well acclimatized.
We were surprisingly hungry, and the assortment of cold cuts, salads, and cookies disappeared with impressive speed. Then we put on helmets — the signal that the river was about to get serious. Suzanne looked at me and smiled bravely: no turning back now! We set out on the river again and hit our first Class III rapids. The rapids all have picturesque names designed to instill respect and even fear: Satan's Cesspool, Bouncing Rock, Hospital Bar Rapids. It was at Bouncing Rock, where the rock doesn't bounce but the boat certainly does, that we encountered a whirl of white water and careening spins, and Suzanne almost fell out of the raft. I was in the front, and she was in the back, so I hardly noticed what had happened until afterward.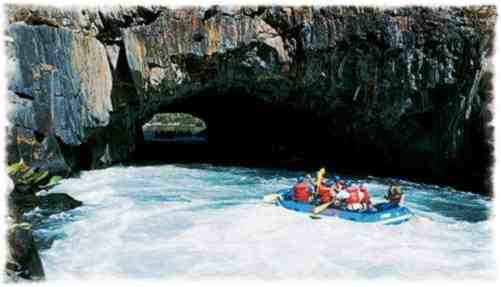 She later said, "I just began to float out of the boat. I was practicing everything Randy said: Hold onto your paddle, stay on your back, keep your feet up and forward! Then I felt this hand reach out and grab my life jacket, and I knew I was okay." It was the ever-alert Rod, and we respectfully refer to the experience as the Hand of Rod.
At Satan's Cesspool, one of the men in Janeen's boat actually did start floating away; the look of stunned surprise on his face made us all laugh. Oh, the relief! It wasn't us! Rod extended a paddle and pulled him aboard our boat. On a quieter stretch he rejoined his friends, too much teasing. But we all knew it could have been any of us.
Waterworld
Dinner that night, steaks and chicken and salads prepared by the guides, tasted like food from heaven, perhaps because the afterlife had been so close to our thoughts.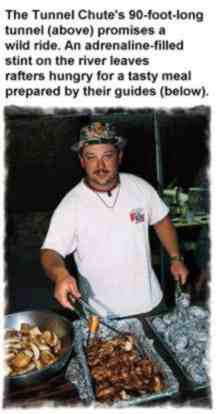 Afterward, sitting under the trees, relaxed over wine and microbrewery beer, we watched a slide show of "crash and burn" moments from the day's rafting, captured by a photographer for our amusement. One slide showed the man's slow exit from Janeen's boat. Everyone else on the boat, except for the man's son, was oblivious as he went overboard. There was a shot of Josh elevating high out of his seat as he bounced through Satan's Cesspool, then landing back in the raft like a ball in a basket — maybe not graceful, but solid. Most of the shots came from the Middle Fork, where Suzanne and I would be the next day. I studied the images carefully: I wanted to be prepared for those Class IV rapids. We saw shots from the notorious Tunnel Chute, a chute and cavern created in the 1890s by miners blasting through the rock to divert the river. The shots were mainly of white water, the people barely discernible, but I did see that the fronts of the rafts were completely submerged as they went through the rapids. The back of the rafts lifted high above the water — that's where people get bounced out. I noted the fact.
Our early fears returned when Randy, one of the river guides, provided some pragmatic advice before we set out. Sunscreen, of course, is recommended, he said, "but don't lube the back of your legs or the trout will see more of you than we do." And don't put sunscreen on your forehead, he added, "because the alcohol will get in your eyes, you'll be blinded, and you'll miss the trip." He demonstrated how to use the paddles and how we should duck into the boat when the guide told us. He warned us to keep tight hold of the paddles in case one gets out of control, "hits you on the forehead, breaks your glasses, you get the red stuff, and the fun's over."
The red stuff! We hadn't thought of the red stuff! We'd only been thinking of the cold, wet stuff.
Randy predicted that there would be at least one "out-of-boat experience." Suzanne and I looked at each other warily, wondering which of us would be bounced or washed out of the raft, and we checked to make sure our life jackets fit snugly.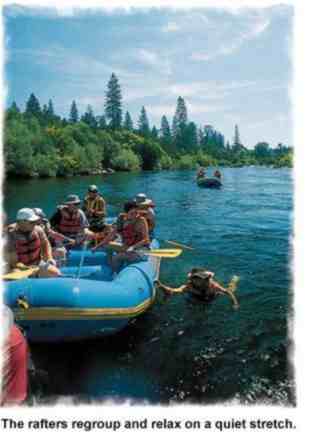 We ate an early breakfast on Sunday so we could set out by van for the Middle Fork. We were with a new group of people; our friends from Saturday were exploring farther reaches of the South Fork. We had a fleeting pang: We now knew we could handle those Class III thrills, but would we be up to this extra challenge? Our new fellow adventurers were from San Francisco and led by Lonnie, a high-spirited joker with a glint in his eye, who had done this trip before.
This was going to be no quiet morning, so we immediately put on helmets. With Machiavellian cunning I arranged it so that Suzanne and I were in the middle; the two young men who positioned themselves in the front seats, Jeremy and Gerard, looked tough enough to take whatever might come.
And it came quickly. We pushed off and immediately went into a swift, bouncing ride through rapids that drenched us with ice-cold waves.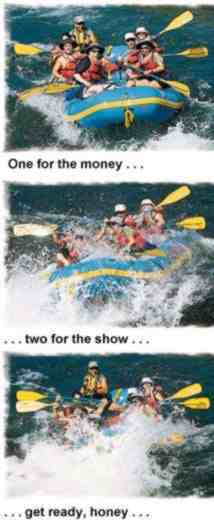 If we weren't awake before, we certainly were now, and we were alert enough to be ready for the Tunnel Chute, which was definitely one of those highlights Suzanne had said she didn't want. It started with a narrow, sharp fall of water down a chute, and then the river tore into a shadowy, 90-foot-long tunnel and swirled down its narrow course for a few heart-stopping moments as the raft careened from wall to wall. As we raced through, I didn't have the time to feel guilty when I saw Jeremy and Gerard submerged in a wall of water; I was too busy ducking. Then came the sun and quiet water for a while.
In the calm, Suzanne turned to me with a sheepish expression. "I think this is more fun than yesterday!" she exclaimed.
The rest of the day was an intensification of Saturday's experience. The sun was hotter and the water colder, or at least more aggressive, and the calm stretches were so inviting that some of the rafters took voluntary dips into the river. At one eddy we spun for quite some time, trapped by the currents in a curve of the river, before releasing ourselves.
The afternoon was coming to a close, and the relaxation after the excitement made everybody a little rowdy. Water fights between the rafts kept breaking out. Suddenly, to my total astonishment, I saw Suzanne take up her paddle and start splashing! Of all people, she splashed Josh, who had led yesterday's rowdy raft! Josh counterattacked with enthusiasm, and Lonnie gleefully joined in. We all got wet all over again. I guess even the most staid of wimps can get carried away from time to time.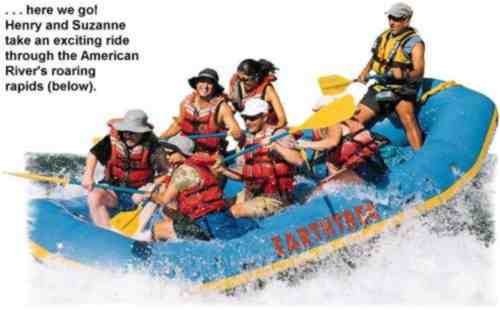 Roughing It

If you would like to overcome your own wimpdom and take on the American River, here's what you need to know.
Children must be at least eight years old to raft Class III rapids and at least 14 to raft Class IV. Rafters older than 60 should be in good health and good physical condition. Rafting is not recommended for pregnant women, anyone extremely overweight, or anyone with back or heart problems. If you have any concerns, consult with a physician.
Swimming skills are not required for Class III rapids. Your life jacket will keep you afloat.
Many outfitters organize American River adventures. Most are well established. For information about EarthTrek, access http://earthtrekexpeditions.com or call (800) 229-8735. To make travel arrangements or get information about other activities in the Sacramento area or learn about a variety of rafting excursions throughout the West, contact your local AAA Travel Agency.
— H.F.