WET SUITS, SPRAY JACKETS and BOOTIES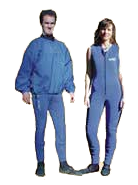 If you are rafting during the summer months you seldom need a wetsuit but if you are rafting in the spring or during times of high water it may be necessary to wear a wetsuit. Wetsuits are always required on the Class IV North Fork trips and they will be provided for free on those trips. Wetsuits, spray jackets and wetsuit booties are available for rent at our South Fork Camp. We have a large selection available for rent so it is not necessary to reserve them in advance. Items can be rented individually or we have a package rate that includes all three items. If cool weather is expected on you trip it is a good idea to also bring wool or polypropylene clothing to wear under your wetsuit. Never wear cotton clothing under your wetsuit because wet cotton will make you colder.
| | | |
| --- | --- | --- |
| Cost per person | 1 day | 2 days |
| Wetsuit | $10.00 | $15.00 |
| Spray jacket | $5.00 | $7.50 |
| Wetsuit booties | $5.00 | $7.50 |
| Package: (all 3 items) | $15.00 | $20.00 |
Wetsuits do not need to be reserved in advance. They can be rented on the first morning of your trip.