South Fork American River 1 Day Upper Chili Bar Run
How to get to the American River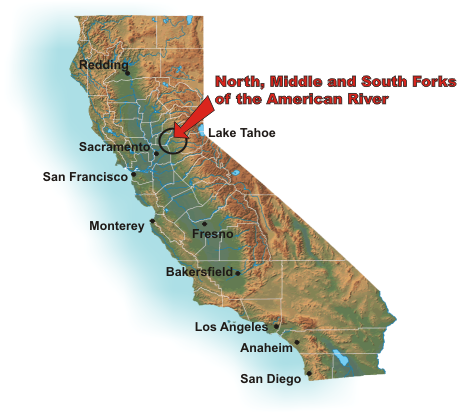 We offer you a selection of ways to get to the American River. The easiest and most popular means of transportation is to drive your own car. Driving directions are detailed below.
Southwest Airlines offers convenient service to Sacramento from many California and Western cities. Rental cars are available at the airport or if you have a group of 10 or more check with EarthTrek about a van or bus shuttle.
From San Francisco Incredible Adventures operates 1 day tours with bio-diesel minibuses to the American River.
DRIVING DIRECTIONS to the American River
Our South Fork, Middle Fork and North Fork American River trips all meet at the EARTHTREK EXPEDITIONS CAMP in Lotus on the South Fork American. Following are driving directions to our camp.
From Southern California (approximately 7 hours driving time): Take I-5 north to Sacramento and follow the directions below from Sacramento.
From San Francisco Bay Area (2- 2 1/2 hours driving time): Take I-80 east to Sacramento and follow the directions below from Sacramento.
From Redding and the Sacramento Airport: Take I-5 south to Hwy 50 east (freeway sign on I-5 directs you to Fresno) and follow the directions below from Sacramento.
From Sacramento (1 hour driving time): Take Hwy 50 east towards Placerville/Lake Tahoe. Drive about 34 miles to Ponderosa Road (Exit 37)and exit the freeway. At the freeway offramp stop light turn left and cross over the freeway. At the second stop light, just past the freeway, turn right on North Shingle Road. Continue about 11.5 miles (the road becomes Lotus Road at mile 5) until the road deadends at Hwy 49. Turn left on Hwy 49 and cross over the American River Bridge (as you cross over the bridge you'll see our camp and grass lawn on the left). Turn left at the SECOND DRIVE into River Park Village and follow the road down to our gravel parking lot which is behind River Park Village.
From South Lake Tahoe: (1 1/2 hours driving time): Take Hwy 50 west over Echo Summit to Placerville. Turn right (north) on Hwy 49 (Spring Street) and drive about 9 miles thru the historic gold discovery site in Coloma and cross over the American River Bridge. Past the bridge turn left at the SECOND DRIVE into River Park Village and follow the road down to our gravel parking lot.
From Reno or North Lake Tahoe (2-2 1/2 hours driving time): Take I-80 west to Auburn and then take Hwy 49 south. You will cross over the North Fork of the American and then climb to the community of Cool. From Cool,6 miles. Continue on Hwy 49 about 10 more miles to River Park Village, which will be on your right (do not cross over the bridge). Turn right at Yossum's Pizza and follow the road down to our gravel parking lot.
When you arrive at our camp please check in at our camp store or follow the directions posted on our bulletin board in camp. Here you will find information about any camping gear you may have rented and where it is located.
If you are arriving late please observe our quiet hours from 10 PM to 7 AM. If you have an RV you are welcome to park in our lot and sleep in your vehicle but there are no hook ups and please no generators during our quiet hours from 10 PM to 7 AM.
DRIVING DISTANCES and TIMES

Times and distances are approximate and will vary with traffic, road and weather conditions. Check

CalTrans

for current road conditions.

To EarthTrek from

San Diego

Anaheim

Bakersfield

Fresno

San Jose

San Francisco

Redding

So Lake Tahoe

Reno

Mileage

548 miles

450 miles

318 miles

212 miles

162 miles

130 miles

205 miles

70 miles

115 miles

Driving Time

9.25 hrs

7.75 hrs

5.5 hrs

3.75 hrs

3 hrs

1.75 hrs

3.5 hrs

1.75 hrs

2.25 hrs
Questions....and Answers
WHICH IS THE BEST WHITE WATER RAFTING TRIP?
The South Fork American River is an excellent white water rafting trip for first time rafters but we also recommend it for rafters of all abilities because of its exciting and fun rapids, reliable summer water flows, comfortable camping facilities and economical prices.
WHEN IS THE BEST TIME TO GO WHITE WATER RAFTING?
Excellent rafting is available from April to October on the South Fork American thanks to reliable releases from a several upstream mountain reservoirs. For thrill seekers looking for high water excitement we suggest booking your trip in May to early June when the melting snow is at its peak. Summer months of June, July and August are the most popular times to raft, especially on weekends. If you can schedule your trip during the midweek you will have the advantage of enjoying greater solitude on the river at a lower cost.
HOW ARE RIVERS CLASSIFIED FOR DIFFICULTY?
The difficulty of a river is classified on a scale of I to VI with I being very easy and VI unrunnable. We have classified the rivers based on normal moderate water flows but during times of high water river, difficulty levels can be increased. We recommend a Class III river for beginning rafters and a Class IV river for experienced rafters looking for more action. Class V river trips are reserved for expert, highly experienced rafters.
WHAT TYPE OF WHITE WATER RAFT DO I RIDE IN?
On the South Fork American we use self-bailing paddle rafts for maximum fun and excitement. Each of the 4-8 passengers has a paddle to help power and maneuver the raft while the guide steers and directs the crew. On high water trips or for passengers with special needs, an oar raft where the guide rows the boat, may be used.
WHO CAN GO WHITE WATER RAFTING?
Generally, just about anyone in reasonable health and fitness can go rafting. The minimum age for a child on the Class III South Fork American river (under normal water flows) is 7 years old and a minimum weight of 55 pounds. During times of high water flows we may need to increase the age minimum to 12 or 14, depending on the water level conditions. There is no maximum age although anyone over 60 should be in good health and perhaps consult with your physician if you have any concerns. If you are pregnant, extremely overweight, or have back or heart problems, we do not suggest a raft trip. Swimming skills are not a requirement since your safety jacket will keep you afloat, but it is recommended that you not have a fear of the water.
WHAT ABOUT YOUNG CHILDREN UNDER 7?
Children 7 and older are welcome on the Class III South Fork American but for families with kids under 7 we offer our non-rafter program where one parent pays full fare for a two day trip and the other parent pays $55 for camping and all meals (except day 1 lunch) and this includes no extra charge for the kids. This program allows one parent to raft the first day and then they can switch and the other parent rafts the second day. This program also applies if you have a non-rafter that just wants to camp and have meals with you, but not raft.
WHAT DO I PROVIDE?
You will be sent a checklist of what to bring when you make a reservation or you can view a checklist on our web site. Basically you will need to bring a sleeping bag, a foam pad or air mattress, and your personal clothing and toiletries. A we t suit is essential during spring trips when the water is cold and the weather is more unpredictable. For participants of EarthTrek operated trips, we can provide low cost rental wet suits, tents, sleeping bags and foam sleeping pads.
ARE GROUP RATES AVAILABLE FOR COMPANY GROUPS, CLUBS OR YOUTH GROUPS?
A river trip is the perfect activity for a group and we offer discounts to groups starting at only six people. See our web page titled GROUPS for more details. Special rates are also available for youth groups such as Boy Scouts or YMCA.
BUT I STILL HAVE MORE QUESTIONS
If you have more questions, simply E-mail us or call EarthTrek Expeditions at (800) 229-8735 and we will be happy to answer them.
What To Bring
On all EarthTrek Expeditions trips all of your gear will remain at our South Fork Camp so you do not have any restrictions on what you can bring. The following list is suggested items. We do not suggest that you bring valuables but if you must we do offer a safe to lock your items during the day or you can lock them in your car and leave your keys in our safe. On the river most people prefer to wear a swimsuit or shorts, tennis shoes without socks and a T-shirt (a T-shirt is good to keep the sun off but a wet cotton T-shirt may give you a chill). You will get wet so dress accordingly.
While on the river
SWIM SUIT or SHORTS
PROPER FOOT WEAR that protects your feet. Tennis shoes or wet suit booties are best Teva™ style sandals that securely strap on your feet are OK but they do not give you the best foot protection. Flip-flops or bare feet are

NOT

allowed on the river.
CAP or VISOR with chin strap.
SUNGLASSES with secure headstrap such as Croakies™.
SUNSCREEN and LIP PROTECTANT
CHANGE OF CLOTHES for your drive home. Also bring a plastic trash bag for wet shoes and clothes.
If cool or inclement weather is a possibility, we recommend the following items
WET SUIT BOOTIES (available for rent)
WOOL SOCKS, WOOL CAP. WOOL GLOVES
RAIN PARKAS or PONCHO
WOOL SWEATER or WARM JACKET (Fleece, wool, capilene or other synthetic materials that insulate when damp are best).
Items for Camping Overnight
NOTE: Camping is not included on one day trips but you have the option to add camping to your trip for $10 per person per night. Cabin tents, river front tents, and cabin are an additional charge.