South Fork - Middle Fork 3 day Combo
Trip Details
SF-MF 3 day Combo
Trip Length:
3 Days
Difficulty:
Class 4
Minimum Age:
14 yrs
- Make Reservation Now!
- View Available Dates!
Price: $369 - $429
Government river use fee
not included.
plus $21 per person county, state and federal river access fees.
Trip Departures:
Trip Includes
3 nights camping
You can arrive anytime after 6 PM on the night preceding your trip.

7 delicious meals
Breakfast the first morning (excluding dinner the second day) thru lunch the third day.

3 days of rafting
2 days on the South Fork American and one day on the Class IV Middle Fork.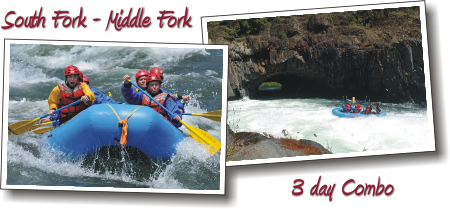 Our 3 day trip includes 7 delicious meals and 3 nights camping at our private river front camp where you can enjoy our grass lawn, recreation area with sand volleyball court, horseshoes, ping pong and air hockey.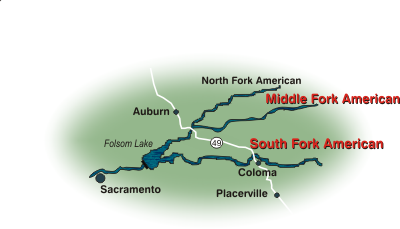 Our trip begins with breakfast followed by a a brief trip orientation and safety talk. Afterwards we will begin our 13 mile journey down the Lower Gorge of the South Fork American which begins as we float a swift but mellow section of the river allowing everyone to perfect their paddling skills in preparation for the challenging American River Gorge. After a delicious 'deli-style lunch (on midweek trips we have lunch at our camp prior to begining the trip) we enter the Gorge where in quick succession we will bounce, yell, get wet and laugh through Fowler's Rock, Satan's Cesspool, Haystack Canyon, Bouncing Rock and Hospital Bar Rapids. Our journey ends on the warm, still waters of Folsom Lake where an awaiting bus or van shuttles you back to the EarthTrek Camp where you can relax and enjoy a complimentary beer and hors d'oeuvres as our guides prepare a dinner feast. After dinner we present an entertaining slide and video show where you can see yourself rafting the biggest rapids of the day.
The next morning after breakfast we will shuttle you up to Chili Bar where we begin our thrilling 8 mile run. The action begins immediately with Meatgrinder, followed by numerous rapids including Racehorse Bend, Rock Garden, Triple Threat and climaxed by a mad dash through famed Troublemaker Rapid. Our day of rafting ends as we pull ashore back at our camp where your guides prepare a tasty barbecue lunch. The remainder of the day is yours to relax at our camp or perhaps you might consider an evening trip to lake Tahoe, 75 miles away. Dinner is not included on this second night.
After breakfast the next morning we depart for the Middle Fork, about a 75 minute drive to our put-in at Ralston Afterbay where we unload the rafts and begin our exciting day of rafting down the Class IV Middle Fork, a deep forested canyon, crystal clear water and some of the wildest runnable rapids in California. All of this and more can be found on the Middle Fork American River. While some of the river is a relaxing but spirited Class II float, there are numerous Class III and IV rapids for whitewater excitement and thrills.
The highlight of every Middle Fork American River trip is the famous Tunnel Chute, a narrow Class IV+ cataract created by 19th century gold miners to divert the river and dry up the ancient bed to make the gold easier to find. Immediately following the Chute is a 90' tunnel that we leisurely float through. After the Tunnel Chute, rapid excitement continues, including the always challenging Kanaka Falls. The Middle Fork American River then mellows until we reach Ruck-A-Chucky Falls, a necessary portage. Our trip down the beautiful Middle Fork American River comes to a dramatic conclusion with another series of thundering Class III-IV drops. Afterwards we return you to our camp and sadly say good-bye.
Note: Generally our 3 day trip includes rafting the South Fork the first 2 days followed by a third day trip down the Middle Fork. On occassion we may raft the Middle Fork on the second day between a first day run down the South Fork Gorge and a third day run down the South Fork Chili Bar Run.
TRIP COSTS and SCHEDULE OF TRIPS

3 day South Fork - Middle Fork trips are scheduled to depart on holiday weekends, May 28-30, July 2-4, Sept 3-5 and Mondays mid-June thru August. Groups of 8 or more may schedule a trip any day of the week.
Saturday
Sunday
Mon-Thur
Friday
$429 adult
$399 youth
$419 adult
$389 youth
$399 adult
$369 youth
$419 adult
$389 youth

All trips are subject to a $21 per person federal, state and county river access fee
Itinerary
2 DAY TRIP
The following schedule details a typical 2 day trip on the South Fork American. Times are approximate and are subject to change due to variations in water releases and water flows.
Evening before your trip
Arrive anytime after 6 PM the day before your trip. Set up your tent on the grass lawn or check into the EarthTrek dome tent or cabin tent that you rented. Enjoy your evening by the South Fork American River.
FIRST DAY
8 AM, Breakfast is served.Our first morning breakfast normally consists of pancakes with fresh sliced strawberries and bananas, sausage, scrambled eggs, cereal, yogurt, orange juice, hot chocolate and coffee.

After breakfast our camp store is open to purchase any items you may need for the trip such as a waterproof camera, sunscreen, croakies, sunglasses, a t-shirt or you can rent a wet suit if the weather is cool.

9:45 AM: Meet in our amphitheater for trip orientation, go over safety issues and meet the guides. Your guide for the trip will be assigned at this time.

We will issue you a safety jacket and paddle prior to boarding your raft at our put-in area adjacent to our lawn area. If we have more than 7 rafts launching we will need to split our group into two or more groups divided by approximately 15 minutes (as required by our permit). Your patience while we launch our groups is greatly appreciated.

The first 3 miles of our rafting trip is a leisurely float with a few mild rapids through what is designated as a quiet zone where we ask you to refrain from making any loud noise with no water fighting. After running Highway Rapid we leave the quiet zone.

Stop for lunch at our private lunch site at Cronan Ranch. Here we serve deli-style make-your-own sandwiches consisting of ham, turkey, roast beef, cheese, lettuce, red onions, tomatoes and a selection of breads. Complimenting your sandwich may include sliced pickles, olives, garlic mushrooms, pepperchini's as well as a selection of chips and cookies. To quench your thirst we have ice cold lemonade, ice tea and water.

Re-board your raft and prepare to enter the Lower Gorge as our first big rapid, Fowler's Rock is just a short distance down the river. After Fowler's Rock the rapids come in quick succession with Upper Haystack Canyon, followed by Satan's Cesspool where our professional photographer is stationed to shoot an exciting picture of you running the rapid. Rapid excitement continues as we run Son of Satan, Lower Haystack Canyon, Bouncing Rock, Hospital Bar, Recovery Room and Surprise. After running the last rapid we hit the calm waters of Folsom Lake where a motorized tow boat will pull our raft to our take-out.

When we reach Salmon Falls Take-out we will need to carry our rafts and gear up to our awaiting equipment van and trailer. The distance and the climb fluctuates with the level of Folsom Lake. An ice cold soda or bottled water is waiting for you. Board our bus or van for the 15 mile trip back to our camp, returning at 3:30-5 PM.

Please Note: The times stated above are for trips with normal water flows. During times of higher water flows the river moves faster resulting in a quicker river trip.

Return time to our camp. Relax, take a shower, enjoy a cold beer from our keg, snack on nachos and salsa or other hors deveres, cast your fishing line into the river, play a game of volleyball, foos ball or ping pong and enjoy life by the river.

6:30-7 PM: Dinner time. Start with our giant salad bar followed by barbecued tri-tips and tasty chicken with a baked potato and parmesan fried bread. Drinks served include wine, ice tea and lemonade.

A tasty desert of freshly baked brownies or ice cream sundaes are served followed by our slide show where you get to view the pictures of you rafting the days biggest rapid.

Enjoy some quiet time around our campfire or walk to the Coloma Club or Sierra Nevada House for live music, dancing and refreshments.

10 PM: Quiet time in our camp. Please be considerate of others. who wish to sleep in our lower camp area. If you wish to stay up later and make a little noise (please note the word "little") we ask that you utilize our upper camp area where the lights will stay lit.
SECOND DAY
8 AM: Breakfast is served. This morning's breakfast consists of cowboy potatoes, make-your-own breakfast burritos with a variety of fixings, fruit, muffins, cereal, yogurt, orange juice, hot chocolate and coffee. After breakfast you will have time to play some games, pre-pack your overnight gear or visit our store.

9:45 AM: Board the bus or van for the 20-30 minute drive upriver to the Nugget at Chili Bar.

Begin our raft trip down the Chili Bar section of the South Fork American River. The first major rapid we will run is Meatgrinder, the longest rapid on the river, followed by Race Horse Bend, Rock Garden and Triple Threat. As we enter the Gold Rush community of Coloma, we run the famous Troublemaker Rapid, where the photographers shoot your picture. We leisurely float past Sutter's Mill where gold was discovered in 1848.

Conclusion of the rafting back at the EarthTrek Camp.

Our barbecue lunch is served. Lunch will consist of hamburgers, hot dogs and veggie burgers on request, as well as. watermelon, cookies and chips, plus cold drinks. View pictures of you running Troublemaker at our camp store.
Lunch concludes at about 2-2:30 PM. The remainder of the day is free for you and dinner is not included on the second night. Perhaps you may consider an afternoon drive up to lake Tahoe, less than 90 minutes away or explore some of the nearby Gold Rush towns.


THIRD DAY
8 AM: Breakfast is served. This morning's breakfast consists of cowboy potatoes, make-your-own breakfast burritos with a variety of fixings, fruit, muffins, cereal, yogurt, orange juice, hot chocolate and coffee. After breakfast you will have time to play some games, pre-pack your overnight gear or visit our store.
Board the van(s) for the 75 minute drive upriver to Ralston Afterbay Put-in on the Middle Fork American.
Begin our raft trip down the Middle Fork. Tunnel Chute Rapid will be run in the first 30 minutes followed by more Class III and IV rapids including Kanaka Falls. The river calms as we stop for lunch.

Run Chunder and then arrive at Ruck-A-Chucky where where we beach the rafts and you walk around as our guides manuever the rafts over the falls. After Ruck-A-Chucky we run a series of Class III-IV drops.

3:30 PM: Approximate arrival time at our take-out at the Old Greenwood Bridge site. A cold drink awaits you upon arrival as we load the rafts back on the van and depart.

Return to the EarthTrek Camp at approximately 4:30-5 PM and the conclusion of our trip.

Note: On our three day SF-MF Combo we may run the Middle Fork on the second day of the trip and conclude with the SF Chili Bar Run on the third day.
How to get to the American River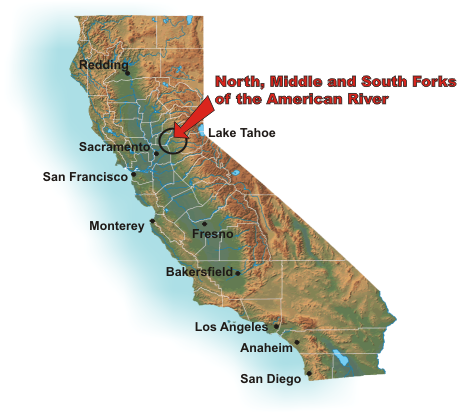 We offer you a selection of ways to get to the American River. The easiest and most popular means of transportation is to drive your own car. Driving directions are detailed below.
Southwest Airlines offers convenient service to Sacramento from many California and Western cities. Rental cars are available at the airport or if you have a group of 10 or more check with EarthTrek about a van or bus shuttle.
DRIVING DIRECTIONS to the American River
Our South Fork, Middle Fork and North Fork American River trips all meet at the EARTHTREK EXPEDITIONS CAMP in Lotus on the South Fork American. Following are driving directions to our camp.
From Southern California (approximately 7 hours driving time): Take I-5 north to Sacramento and follow the directions below from Sacramento.
From San Francisco Bay Area (2- 2 1/2 hours driving time): Take I-80 east to Sacramento and follow the directions below from Sacramento.
From Redding and the Sacramento Airport: Take I-5 south to Hwy 50 east (freeway sign on I-5 directs you to Fresno) and follow the directions below from Sacramento.
From Sacramento (1 hour driving time): Take Hwy 50 east towards Placerville/Lake Tahoe. Drive about 34 miles to Ponderosa Road (Exit 37)and exit the freeway. At the freeway offramp stop light turn left and cross over the freeway. At the second stop light, just past the freeway, turn right on North Shingle Road. Continue about 11.5 miles (the road becomes Lotus Road at mile 5) until the road deadends at Hwy 49. Turn left on Hwy 49 and cross over the American River Bridge (as you cross over the bridge you'll see our camp and grass lawn on the left). Turn left at the SECOND DRIVE into River Park Village and follow the road down to our gravel parking lot which is behind River Park Village.
From South Lake Tahoe: (1 1/2 hours driving time): Take Hwy 50 west over Echo Summit to Placerville. Turn right (north) on Hwy 49 (Spring Street) and drive about 9 miles thru the historic gold discovery site in Coloma and cross over the American River Bridge. Past the bridge turn left at the SECOND DRIVE into River Park Village and follow the road down to our gravel parking lot.
From Reno or North Lake Tahoe (2-2 1/2 hours driving time): Take I-80 west to Auburn and then take Hwy 49 south. You will cross over the North Fork of the American and then climb to the community of Cool. From Cool,6 miles. Continue on Hwy 49 about 10 more miles to River Park Village, which will be on your right (do not cross over the bridge). Turn right at Yossum's Pizza and follow the road down to our gravel parking lot.
When you arrive at our camp please check in at our camp store or follow the directions posted on our bulletin board in camp. Here you will find information about any camping gear you may have rented and where it is located.
If you are arriving late please observe our quiet hours from 10 PM to 7 AM. If you have an RV you are welcome to park in our lot and sleep in your vehicle but there are no hook ups and please no generators during our quiet hours from 10 PM to 7 AM.
DRIVING DISTANCES and TIMES

Times and distances are approximate and will vary with traffic, road and weather conditions. Check

CalTrans

for current road conditions.

To EarthTrek from

San Diego

Anaheim

Bakersfield

Fresno

San Jose

San Francisco

Redding

So Lake Tahoe

Reno

Mileage

548 miles

450 miles

318 miles

212 miles

162 miles

130 miles

205 miles

70 miles

115 miles

Driving Time

9.25 hrs

7.75 hrs

5.5 hrs

3.75 hrs

3 hrs

1.75 hrs

3.5 hrs

1.75 hrs

2.25 hrs
Questions....and Answers
WHICH IS THE BEST WHITE WATER RAFTING TRIP?
The South Fork American River is an excellent white water rafting trip for first time rafters but we also recommend it for rafters of all abilities because of its exciting and fun rapids, reliable summer water flows, comfortable camping facilities and economical prices. For experienced rafters looking for more white water action we recommend the Middle Fork and North Fork of the American River.
WHEN IS THE BEST TIME TO GO WHITE WATER RAFTING?
Excellent rafting is available from April to October on the South Fork American thanks to reliable releases from a several upstream mountain reservoirs. For thrill seekers looking for high water excitement we suggest booking your trip in May to early June when the melting snow is at its peak. Summer months of June, July and August are the most popular times to raft, especially on weekends. If you can schedule your trip during the midweek you will have the advantage of enjoying greater solitude on the river at a lower cost.
HOW ARE RIVERS CLASSIFIED FOR DIFFICULTY?
The difficulty of a river is classified on a scale of I to VI with I being very easy and VI unrunnable. We have classified the rivers based on normal moderate water flows but during times of high water river, difficulty levels can be increased. We recommend a Class III river for beginning rafters and a Class IV river for experienced rafters looking for more action. Class V river trips are reserved for expert, highly experienced rafters.
WHAT TYPE OF WHITE WATER RAFT DO I RIDE IN?
On most Class III and IV rivers, self-bailing paddle rafts are used for maximum fun and excitement. Each of the 4-8 passengers has a paddle to help power and maneuver the raft while the guide steers and directs the crew. On high water trips or for passengers with special needs, an oar raft where the guide rows the boat, may be used.
WHO CAN GO WHITE WATER RAFTING?
Generally, just about anyone in reasonable health and fitness can go rafting. The minimum age for a child on the Class III South Fork American river (under normal water flows) is 8 years old and a minimum weight of 55 pounds. During times of high water flows we may need to increase the age minimum to 12 or 14, depending on the water level conditions. There is no maximum age although anyone over 60 should be in good health and perhaps consult with your physician if you have any concerns. If you are extremely overweight or have back or heart problems, we do not suggest a raft trip. Due to safety considerations, we are unable to take pregnant women rafting. Swimming skills are not a requirement since your safety jacket will keep you afloat but it is recommended that you not have a fear of the water.
WHAT ABOUT YOUNG CHILDREN UNDER 8?
Children 8 and older are welcome on the Class III South Fork American but for families with kids under 8 we offer our non-rafter program where one parent pays full fare for a two day trip and the other parent pays $55 for camping and all meals (except day 1 lunch) and this includes no extra charge for the kids. This program allows one parent to raft the first day and then they can switch and the other parent rafts the second day. This program also applies if you have a non-rafter that just wants to camp and have meals with you, but not raft.
WHAT DO I PROVIDE?
You will be sent a checklist of what to bring when you make a reservation or you can view a checklist on our web site. Basically you will need to bring a sleeping bag, a foam pad or air mattress, and your personal clothing and toiletries. A wet suit is essential during spring trips when the water is cold and the weather is more unpredictable. For participants of EarthTrek operated trips, we can provide low cost rental wet suits, tents, sleeping bags and foam sleeping pads.
ARE GROUP RATES AVAILABLE FOR COMPANY GROUPS, CLUBS OR YOUTH GROUPS?
A river trip is the perfect activity for a group and we offer discounts to groups starting at only six people. See our web page titled GROUPS for more details. Special rates are also available for youth groups such as Boy Scouts or YMCA.
BUT I STILL HAVE MORE QUESTIONS
If you have more questions, simply E-mail us or call EarthTrek Expeditions at (800) 229-8735 and we will be happy to answer them.
What To Bring
On all EarthTrek Expeditions trips all of your gear will remain at our South Fork Camp so you do not have any restrictions on what you can bring. The following list is suggested items. We do not suggest that you bring valuables but if you must we do offer a safe to lock your items during the day or you can lock them in your car and leave your keys in our safe. On the river most people prefer to wear a swimsuit or shorts, tennis shoes without socks and a T-shirt (a T-shirt is good to keep the sun off but a wet cotton T-shirt may give you a chill). You will get wet so dress accordingly.
While on the river
If cool or inclement weather is a possibility, we recommend the following items
Items for Camping Overnight
Optional Items
Camping & Lodging
On our three day rafting trips, we include three nights camping. You are allowed to arrive at 6 PM or later on the night before your raft trip. If you arrive prior to 6 PM your camping space or rental tent may not ba available as we need the period prior to 6 PM to clean tents and/or water our lawn.
As an option, when available, if you would like to arrive the morning of your trip we can substitute your second night of camping for the night after you complete your 3 day trip. Additional nights camping is available for $10/ night per person.
At our camp, EarthTrek will provide meals during your stay. We do not allow individuals to cook their own meals so please do not bring camp stoves for food preperation. There are several restaurants within walking distance of our camp.
Our campground is not equipped for RVs. You are allowed to park your RV in our parking lot and stay in it at night but PLEASE do not run your generator from 10 PM to 7 AM. If you would like to stay at a campground with RV hook-ups check out our links page for a list of campgrounds in our area.
Bring your own tent, sleeping bag and sleeping pad or rent what you need from EarthTrek. See below.
CABIN TENTS
Rent one of our deluxe cabin tents to make your whitewater rafting trip with EarthTrek an even better experience.

CLICK HERE for more information
CLICK HERE for a pdf map of our cabin tents

RIVER FRONT TENTS
These unique tents are built on a deck at the rivers edge giving you an unforgettable view of the American River.

CLICK HERE for more information

fr

DOME TENTS, FOAM PADS and SLEEPING BAGS
Our standard dome tents are available in 2 sizes, 2-person and 4-person. Our thick comfortable foam sleeping pads will provide you a good nights sleep. Our sleeping bags come with a freshly launderd cotton liner.

CLICK HERE for more information